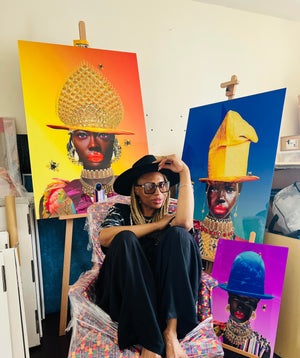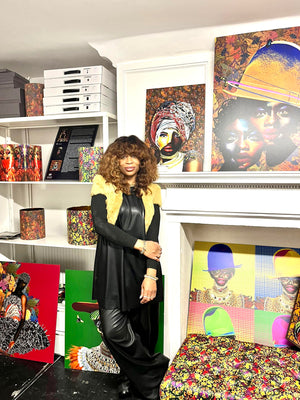 THE ARTIST
"I create art that will challenge the mainstream, igniting an understanding and appreciation for black culture, style and beauty. As equal to the western ideology of beauty, and to help forge a stronger pan-continent relationship between fashion and art." 
Caroline Chi-Chi Chinakwe
Caroline Chinakwe, is a Nigerian-born, London-based, mixed media artist. Caroline is known for her colourful, powerful, and unapologetic visuals that captures the beauty found in black culture and style, while addressing social issues that affect people of colour. 
Caroline is an alumni of London College of Fashion and started her career as a garment technologist, working for designers and high street brands, before focusing on a freelance career as a fashion designer and stylist. 
After 20 years experience working in the fashion industry, Caroline's recent  transition into art, developed from the lack of diversity in fashion when it came to how visuals including black models, were styled and depicted in mainstream media. As a mother of 3 herself, it was also a personal need to create and  share images that would inspire and empower her children and the next generation. 
As a self taught artist, Caroline's process in creating her pieces is drawn from her natural creative abilities, her experience as a stylist and designer, working with models, photographers, clothing and accessories, all of which have been brought together and channeled into her works. 
Using a combination of various artistic mediums including photography, acrylic painted details, and digital collaging, Caroline's art has her very unique signature on it, pushing the boundaries of various techniques, combination of textures and exquisite but deliberate imperfect touches. The artist's images portray the complexities of black women and men, intrinsically woven into their beauty, style, strength and grace. In her pieces, traditional and non traditional head wears and hairstyles are worn with a sassy confidence, on a melanin heavy canvas and adorned in jewellery whilst using makeup and accessories as a form of expressing their identity, individuality and pride in their culture.
Social media has played a huge part in the artists journey, the response received from followers of her pieces, gave her the confidence and drive to launch a debut collection in 2019 entitled 'This is Me', which included collaborations with jewellery and accessories designers Moyobybibi, Anita Quansah and hat designer, Maxhatter. Caroline's art has also been acclaimed by industry influencers including Christene Barberich, co-founder of Refinery29, and Hannah O'Leary, Head of Modern & Contemporary African Art at Sotheby's and neo soul music icon Erykah Badu. 
Still very much surprised and excited by the way her images have been received on social media and especially the support received from the black community, at the beginning of 2019, the artist made the bold move to step away from fashion to devote her time developing a full time career as an artist. 
Caroline is currently working on the launch of her new collection 'Colourism'. This collection was inspired by the Black Lives Matter movement and social injustice protests of 2020 and looks at the issue of colour and the preference for a lighter skin tone within the black community itself. 
"I want my work to have a positive impact and start conversations about the beauty in the diversity of our black skin and the many beautiful shades it comes in." 
In the middle of a world pandemic, Caroline made another bold move, to start working on her lifestyle brand CHINAKWE. The CHINAKWE lifestyle brand will be an extension of her art and will include homeware and apparel products including silk scarves in various sizes and styled in different ways, velvet and satin cushions, satin loungewear and reupholstered vintage chairs. Like her art, these pieces will be full of colour and strong images that will pay homage to her African and Western influences.
To stay updated on Chinakwe news, make sure you check out our PRESS page!